Manual Scissor Lift Table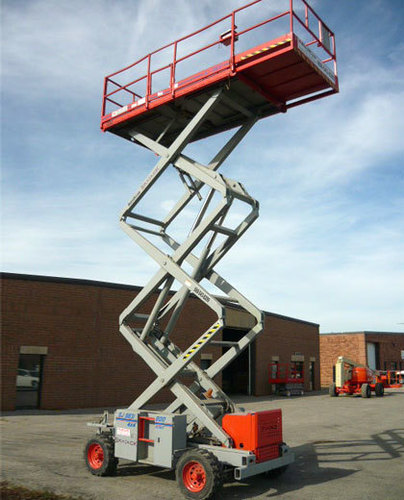 Manual Scissor Lift Table
Price And Quantity
Product Specifications
350 Kilograms (kg)

6 Meter (m)
Strong, Durable, Easy To Operate, Rust Proof, Consume Less Power
Product Description
Future Industries is a reputed scissor lift manufacturer in Gujarat, India. We are supplying this kind of material handling equipment, whose platform can be raised straight up, allowing workers to work in higher elevations. In other words, we are offering this product, which purpose is to aim an object to access the difficult reaching heights. This lift tend to provide a stable and supportive platform to the workers to effortlessly mount on high areas. Facilities equipped with this machine need not to use tower, scaffolding or ladder. This is regarded as the most safe and secure equipment, as the one working at the height can be protected with a safety harness and stable platform surrounded by a railing. It supports not only one worker at a time, but a few along with equipment, tools and supplies required for the job.
Scissor Lift Design:
This lift is portable and has flexible yet sturdy design that eases the alignment of lowering or raising the unit load. The platform that is mounted at the top of the lift is surrounded by a boundary that serves as the support to the user and also to the harness that holds the user to avoid any calamity and ultimately adds to the safety feature.
Applications of Scissor Lifts:
Being made up of robust metals like stainless steel and iron ores, these lifts have commendable endurance of bearing heavy loads or weight. These machines are also known to be durable and rust proof. There are many companies from different industrial sectors that require scissor lift supplier from India. Here is the list of potential users of this lift:
1) Warehouses: Warehouse personnel can use this lift to reach to top most counters of the rack for loading and unloading of goods.
2) Large Retail Stores: This lift can be used to load and unload goods to and from tall store and warehouse shelves.
3) Production Units: Manufacturing, chemical processing and other production units can use this equipment to improve operating efficiency.
4) Libraries: This equipment can be used to pick a book or stack many on the high book shelve, which can not be reached by hand.
5) Building Maintenance: People associated with the task of building maintenance can use this equipment to access utilities, address repairs, wash windows, change lights and signs, and performing other tasks.
Businesses seeking a right scissor lift manufacturer in Gujarat, can trust Future Industries. We can fabricate this machine in different sizes, based on the factors like work height, environment, use frequency, load weight and travel distance.
Advantages of Scissor Lifts:
1) Increases the productivity as it has more uptime
2) Designed for ensuring fewer scheduled services
3) Delivers a quieter work area and double operating time
4) All the operator controls of this machines are innovative and compact
5) Best on-the-job performance due to twice duty cycles
Specifications of Scissor Lifts:
| | |
| --- | --- |
| Max Lifting Height | 6000 mm |
| Usage/Application | Material Handling |
| Model Name/Number | FIE-138 |
| Power Source | Hydraulic |
| Capacity | 300/450 kg |
| Brand | FIPL |
| Material | Mild Steel |
| Wheel | Dia 250 mm Solid Rubber |
| Self Weight | 650 kg |
| Rising Velocity | 54 s |
| Power Supply Voltage | AC 220/440 |
| Platform Size | 1850 x 880 mm (LxW) |
| Overall Dimensions | 1900 x 1120 x 950 mm (LxWxH) |
| Motor Power | 1.1 kW |