Mobile Scissor Lifts Table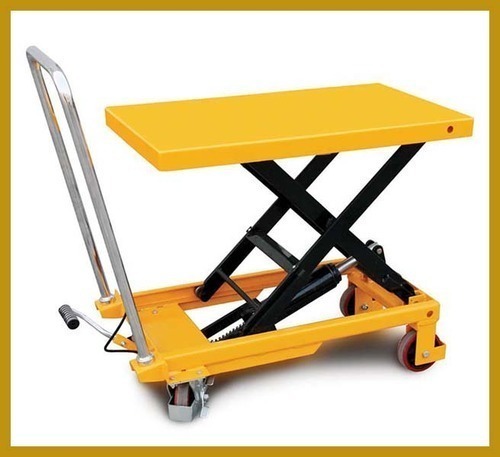 Mobile Scissor Lifts Table
Price And Quantity
Unit/Units

50000.00 - 100000.00 INR
Product Specifications
Centimeter (cm)

Hydraulic
Strong, Durable, Easy To Operate
Product Description
Owing to our expertise in this domain, we are engaged in offering an excellent quality array of Mobile Hydraulic Scissor Lifts that is widely used for lifting heavy products with no hassle. Offered rugged lift table is manufactured in accordance to the prevailing industry standards by making use of excellent quality components with the help of latest technology. This lift table is mainly used for various industrial sectors and can be availed from us in different weight capacities, length and other specifications depending on the choice of our clients. We provide this Mobile Hydraulic Scissor Lifts at industry leading price.
Mobile Scissor Lifts Advantages:
1) Enhance safety, driver ergonomics and improve machine operations.
2) Sturdy construction to ensure its safe and secure performance
3) Ultra-modern and user-friendly design to uplift the material easily
4) Easy to operate high load with utmost precision
5) Comes with high quality motor which reduce the pressure peek
6) Requires less fuel and maintenance
7) Used for lifting heavy loads and materials, erection of pillars poles etc.
8) Overload sensor with alarm
9) Automatic leveling hydraulic outriggers
10) AC power on the platform
11) Platform work lights
12) Airline to the platform
13) Hydraulic generator
14) Hydraulic oil cooler
Mobile Hydraulic Scissor Lifts Technical Specifications:
| | | | | |
| --- | --- | --- | --- | --- |
| MODEL | Weights | SP800 | SP1000 | SP1500 |
| Capacity | kg | 800 | 1000 | 1500 |
| Max. lift height | (mm) | 1000 | 1000 | 1000 |
| Min. height of table | (mm) | 420 | 380 | 420 |
| Lifting height | (mm) | 580 | 620 | 580 |
| Table size | (mm) | 1000 | 1016 | 1230 |
| Total height | (mm) | 996 | 962 | 962 |
| Overall length | (mm) | 1150 | 1170 | 1379 |
| Foot pedal cycles to max height | | 70 | 55 | 70 |
| Wheel diameter | (mm) | 150 | 150 | 150 |
| Qty./20 Container | PCS | 52 | 52 | 48 |
| Service weight | kg | 115 | 115 | 135 |
| Carton size | mm | 430 | 1410 | 14010 |
Model Number Format

| | | | | | | | |
| --- | --- | --- | --- | --- | --- | --- | --- |
| Vertical Travel | Platform Width | Platform Length | Capacity (lbs.) | Raised Height | Lowered Height | Travel Time (sec.) | Net Weight (lbs.) |
| 36" | 24"-48" | 48"-72" | 1000 | 43" | 7" | 7 | 638 |
| 36" | 24"-48" | 48"-72" | 2000 | 43" | 7" | 11 | 738 |
| 36" | 24"-48" | 48"-72" | 3000 | 43" | 7" | 16 | 1020 |
| 36" | 24"-48" | 48"-72" | 4000 | 43" | 7" | 22 | 1008 |
| 36" | 36"-48" | 48"-72" | 5000 | 44" | 8" | 32 | 1029 |
| 36" | 36"-48" | 48"-72" | 6000 | 44" | 8" | 32 | 1108 |
| 33" | 36"-48" | 48"-72" | *8,000 | 44" | 8" | 15 | 1281 |
| 33" | 40"-60" | 48"-72" | *10,000 | 43" | 7" | 15 | 1438 |
| 33" | 40"-60" | 48"-72" | *12,000 | 43" | 10" | 15 | 1596 |
| 48" | 24"-48" | 64"-90" | 1000 | 55" | 7" | 11 | 755 |
| 48" | 24"-48" | 64"-90" | 2000 | 55" | 7" | 16 | 1176 |
| 48" | 24"-48" | 64"-90" | 3000 | 55" | 7" | 22 | 2040 |
| 48" | 36"-48" | 64"-96" | 4000 | 56" | 8" | 32 | 1671 |
| 48" | 36"-48" | 64"-96" | 5000 | 56" | 8" | 32 | 1239 |
| 48" | 36"-48" | 64"-96" | 6000 | 56" | 8" | 48 | 1420 |
| 45" | 36"-48" | 64"-96" | *8,000 | 56" | 8" | 15 | 1574 |
| 45" | 40"-60" | 64"-96" | *10,000 | 55" | 10" | 15 | 1659 |
| 45" | 40"-60" | 64"-96" | *12,000 | 55" | 10" | 20 | 1816 |
| 60" | 24"-48" | 84"-108" | 1000 | 67" | 7" | 16 | 1313 |
| 60" | 24"-48" | 84"-108" | 2000 | 67" | 7" | 14 | 891 |
| 60" | 24"-48" | 84"-108" | 3000 | 67" | 7" | 16 | 1197 |
| 60" | 40"-72" | 96"-120" | 4000 | 68" | 8" | 26 | 1848 |
| 60" | 40"-72" | 96"-120" | 5000 | 68" | 8" | 26 | 1869 |
| 60" | 40"-72" | 96"-120" | 6000 | 70" | 10" | 30 | 1890 |
| 60" | 40"-72" | 96"-120" | *8,000 | 70" | 10" | 30 | 2131 |
| 60" | 40"-72" | 96"-120" | *10,000 | 72" | 12" | 30 | 3498 |
| 60" | 40"-72" | 96"-120" | *12,000 | 72" | 12" | 30 | 2446 |
| 72" | 24"-48" | 102"-120" | 1000 | 79" | 7" | 12 | 2047 |
| 72" | 24"-48" | 102"-120" | 2000 | 79" | 7" | 16 | 1885 |
| 72" | 48"-72" | 120"-144" | 3000 | 82" | 11" | 26 | 2089 |
| 72" | 48"-72" | 120"-144" | 4000 | 82" | 11" | 26 | 2110 |
| 72" | 48"-72" | 120"-144" | 5000 | 82" | 11" | 26 | 2131 |
| 72" | 62"-72" | 120"-144" | 6000 | 82" | 12" | 30 | 2152 |
| 72" | 62"-72" | 120"-144" | *8,000 | 82" | 12" | 30 | 2415 |