Scissor Lifting Table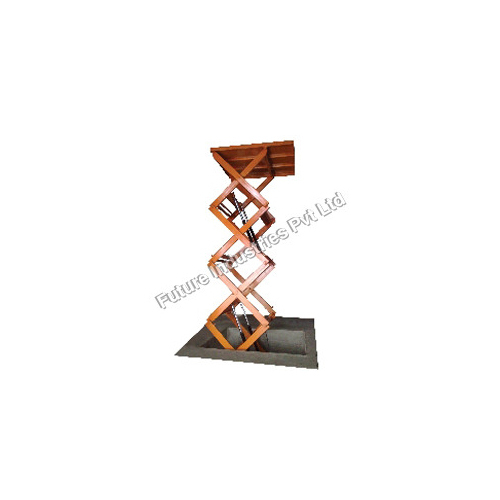 Scissor Lifting Table
Product Description
Pioneer in mechanical industry, we are engaged in manufacturing, exporting and supplying an impeccable array of Scissor Lifting Table. Only premium quality components are used in manufacturing of this table under the supervision of our dexterous professionals. This table is widely used for lifting of heavy duty materials towards certain height. Our clients can avail this Scissor Lift Table in various specifications at highly competitive rates from us.
Features:
Strong construction
Withstand high impact
Smooth operations
High performance
Further Details:
Scissor Lifting Tables offered by us are built to deliver and retain decades of reliable performance. The focus on single manufacturing is to deliver lifting products which are designed superiorly to provide our customers with dependable and trouble-free operations for years.

You can assure with over a 1,000 design options to provide the exact solutions that have the broadest and best lifting tables which are available for your application. Premium and heavy-steel structure components make our scissor lifts as per the toughest and varying demands of our clients.

To provide versatility in capacity for lifting loads of any size, and lift vertically 2 feet to 20 feet, these are engineered to perfection. Available with motors which are mechanical, hydraulic, or air actuated, these tables meet diverse requirements of job site.

Additionally, we have numerous other options for better functionality of your lift table- conveyors, turntables, mobility, tilters, which can be added to the scissor lift assembly for more achievements.

The guarantee of precision engineering of every design and manufacturing detail is provided in a scissor lift table encompassing optimal performance and long service life when sourced from Auto quip.

Durability and Quality

To provide excellent load stability all scissor rollers are captured within structural channels made using highest grade steel
Spiral wound bearings possessing high impact provide rugged resistance to impact, abrasion, maintenance-free and uneven loads at every pivot point.
Leg deflection due to spreading or twisting under high/uneven loading is minimized by every pinned joint of structural cross-members in the scissors assembly.
All hydraulic cylinders contain self-aligning piston rods which are two-piece significantly reducing wear and transmitting minimal side forces to the cylinder pins/hinges.
All upper and lower frames of structural steel channels provide additional resistance to twisting, bending of the lift under load and rigidity.
Solid steel stiffeners added to the legs provide straight and overall stability in the repeatable roller tracking as the lift lowers and raises.
The most critical wear points, Joints in the lift feature 100,000 psi, chrome-plated and ultimate-strength pins for long life and premium load strength.
Deck deflection is minimized, load stability is maximized and extended the life of the platform deck greatly with the help of minimum 1/4-inch-thick steel-reinforced platform.
Specification
| | | | | | |
| --- | --- | --- | --- | --- | --- |
| Product Code | | FIE-137 | FIE-137 | FIE-137 | FIE-137 |
| Max. Platform Height | mm | 6000 | 7500 | 9000 | 11000 |
| Min. Platform Height | mm | 1350 | 1450 | 1650 | 1800 |
| Lift Rated Capacity | kg | 500 | 500 | 500 | 500 |
| Platform Size | mm | 218010001100 | 218010001100 | 218010001100 | 218010001100 |
| Out Spread Size | mm | 27002200 | 27002200 | 27002200 | 27002200 |
| Electro Motor Power | kw | 2.2 | 2.2 | 2.2 | 2.2 |
| Elevating Time | s | 59 | 77 | 77 | 77 |
| Overall length | mm | 2270 | 2270 | 2270 | 2270 |
| Overall width Q | mm | 1250 | 1250 | 1250 | 1250 |
| Overall height Q | mm | 1350 | 1450 | 1650 | 1800 |